BelleoFX – The Award-Winning Forex Brokerage Led by CEO Andrew Ishchuk
Andrew Ishchuk is known for his proactive approach and extraordinary vision, which have led many international forex companies to the next level and helped them achieve remarkable success in the shortest possible time.
Before assuming his new position with BelleoFX, he served companies like HonorFX, SmartFX, FXGate Ltd, CliqFX, TeleTrade, and Forex Trend, boasting an impressively successful track record. He joined these struggling companies and led them to a point where they are widely renowned as fast-growing companies in their field, with extensive month-on-month growth.
With more than 13 years of experience, Andrew Ishchuk is now leading BelleoFX as the CEO, supervising and controlling all strategic business aspects of the company.
The Ultimate Goals For 2023
We started by asking, "Tell us about your company and what are your goals for 2023?"
"BelleoFX is a brand name that encompasses Belleo Markets (Mauritius), BelleoFX (St. Vincent and The Grenadines), and Belleo Markets – Rep.Office (UAE).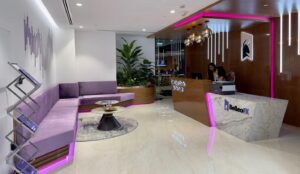 Recognized as one of the rapidly growing forex brokers in the UAE, BelleoFX was launched in 2020 with a mission to develop innovative solutions while keeping pace with global market demands and making genuine profits possible for its clients by providing them the power to enhance their investment goals with an open mind.
Located in Dubai, which is considered the heart of MENA, BelleoFX is focused on capturing the market share within this region rather than targeting European or other international markets at this stage.
However, the company has already established a strong presence in the SEA market and plans to start targeting EU markets from next year onwards. Furthermore, the company is focusing on a B2B business model in parallel and has already brought in a couple of B2B clients, along with some white labels, which are deemed essential for business growth." said Andrew Ishchuk.
Regulations & License
We also wanted to know more about the licensing and regulations, so we further asked, "What type of regulations and licenses do you have at BelleoFX?
He added, "The Financial Services Commission (FSC) was established in 2001 and operated within an internationally recognized legal framework under the Financial Services Act 2021.
The FSC is responsible for licensing, regulating, monitoring, and supervising business activities for companies in the financial service sector other than banking. This makes the FSC a better choice for companies that prioritize their clients' code of conduct and protection.
In addition to its regulatory duties, the FSC promotes public understanding of the financial system, including awareness of the benefits and risks associated with different kinds of investment products. The FSC also takes appropriate measures to protect consumers of financial services in Mauritius. That's why BelleoFX considered and chose the FSC as their main regulator for now.
So, as we speak, BelleoFX is a brand name of Belleo Markets (Mauritius), BelleoFX (St. Vincent and The Grenadines), and Belleo Markets – Rep.Office (UAE). 
Belleo Markets (MU) was incorporated in the Republic of Mauritius with registration number 186405 GBC. The company is regulated by the Financial Services Commission (FSC) of Mauritius as an Investment Dealer (Broker) with a license number GB21027167.
BelleoFX (SVG) is registered by the Financial Services Authority (FSA) of St. Vincent & The Grenadines as an International Business Company with registration number 26000 BC 2020.
Belleo Markets – Rep. Office (UAE) is a branch of the foreign company (Belleo Markets Mauritius), registered and regulated by DET with a license number 1074850."
Staying Aligned With The Market Trends
Our next question was, "How is BelleoFX positioning as per the current market scenario & increasing competition?"
Andrew says, "As you know, there are a lot of brokers in the Asian and MENA markets, but there is still a huge vacuum when it comes to thoroughly regulated, reputable, and competitive forex brokers. That's where we fit in. We provide unparalleled products and services to our clients; our first priority is transparency. We strongly believe in the success of our clients, and we always want to stand by their side, providing them with the confidence to trade with full devotion.
BelleoFX offers over 1000 trading instruments across multiple asset classes, including but not limited to forex, commodities, indices, metals, energies, cryptos, and more. However, the company continues to look for options to further diversify its offerings."
Standing Out From The Crowd
To stay aligned with the current market trends, businesses need to be unique. This gives customers or clients a factor that can draw them toward the business. To know how it's going for BelleoFX, we asked, "What makes your company stand out from all the other businesses in your industry?"
Andrew continues, "At BelleoFX, our focus remains on our founding principles, and that is transparency. Clients are always our first priority. We don't want to leave any grey areas for our clients or any dissatisfaction whatsoever, which is why we have monthly evaluation programs where the senior management, including myself, get involved with the clients to understand their satisfaction level. We will continue to concentrate our efforts on providing our clients with the ideal conditions, instant executions, and withdrawals, as well as mechanisms that protect our clients' interests.
We already have a competitive advantage in our industry. We have a full-scope in-house IT department where we create software, plugins, and CRM along with the Client Portal, which gives us full control to optimize it as much as possible for our clients. Having said this, we want to mention that we want to evolve as a Fintech company and not just as a brokerage firm.
There are many brokers in the market, including many white labels, which are already using our technologies. We keep on enhancing the features, functionalities, and capabilities of our in-house products to make them future-proof. So, we can offer everything under one roof to our clients, but most brokers can't."
Client Satisfaction Is The Key
We also wanted to know what key performance indicators are important in Andrew's company. So, we asked, "What KPIs do you use to measure your business success?"
Andrew continues, "Like any other business, client satisfaction is the key to success. As an online business, we heavily rely on digital platforms to communicate with our clients and on digital marketing mediums to reach out to new and potential clients. However, we never miss participating in offline opportunities, discussions, gatherings, and events. This allows us to meet our clients and partners in the real world and connect with them more naturally.
Some of our main KPIs include 100% client satisfaction, staying ahead of the competition, providing unparalleled support, super-fast turnaround time, smoothing overall operations, and adding new tools to make clients more comfortable. We always support two-way communication and listen to feedback from our esteemed clients.
Website visitors, registrations, verified clients, deposits, and volume traded are all part of our KPI process."
Teamwork & Unity
Teamwork is also a crucial aspect of any business. To know how Andrew's company focuses on the employees, we asked:
"How do you build trust with your employees and boost productivity without causing burnout?"
He replied, "To keep employees motivated and inspired to put their 100% into everything they do, it is essential to have a systematic process in the workplace. We follow the same principle, and our HR department plays a vital role in this by:
Encouraging learning and development opportunities
Providing employees with the right technology
Emphasizing company culture
Strengthening communication protocols
Identifying and aligning goals with performance
Encouraging two-way feedback
Supporting them to think about the bigger picture and much more.
Employee efficiency is crucial to driving business success, and we do whatever it takes to support the workforce in a way that when they are working, they are putting in their 100%. Everything else is secondary.
BelleoFX's current standing and future plans:
With our current setup, we are conducting successful operations, and our company is growing at a good pace.
However, we plan to further enhance our regulatory position by applying for new European licenses, primarily for professional clients, considering the latest MiFID II regulations. We also plan to start targeting EU markets from next year onwards."