Capturing The Heart Of Smartwatch Enthusiasts Globally With Artalex: Alex Pan Yong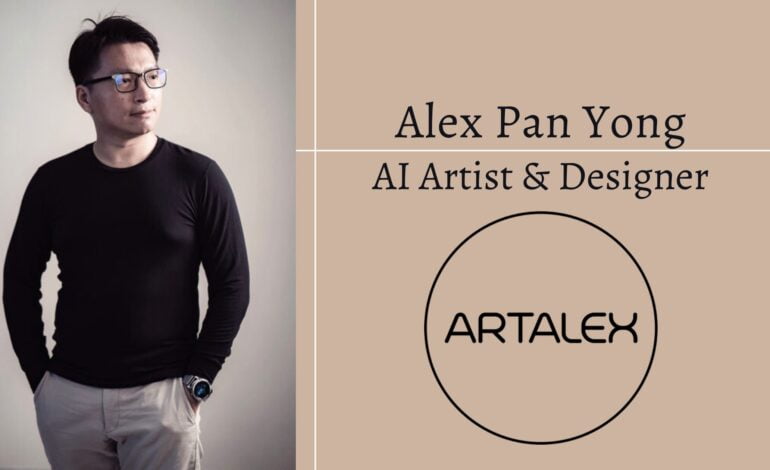 We recently had the privilege of interviewing Alex Pan Yong, Designer of Artalex. Alex's journey over these years as a designer and being associated with web development, to winning 10 international prizes in five years for his smartwatch face designs, are incredible and awestruck. In this interview, Alex Pan Yong shares his career journey, his passion for art and design, practical teamwork, and his take on customer-centric vision. 
Artalex has revolutionized the smartwatch face designs with its aesthetic and smooth functionality. Alex's designs at Artalex reflect his profound creativity and art, resonating with audiences globally. His insights on merging artwork with technology, catering to a global audience, commitment to excellence, flexibility, and continuous learning offer invaluable lessons for aspiring professionals in a similar field.
Career Overview
We started the interview by asking, "Can you please provide us with some information about yourself, including your early life and education?" 
Alex shared, "I spent 4 years studying Fine Arts and Computer Arts at Shanghai Huashan Art School and studied advertising design at Tong Ji University in Shanghai for the next 3 years. Later, I got a Computer Art Diploma and an Advertising Design Diploma while continuing my art learning journey at Lasalle College of the Arts. I graduated with a Bachelor's degree in Interactive Art in 2007. 
After graduating, I started my career as a web and multimedia designer. Eventually, with my passion for art and to further improve my artistic achievement, I decided to self-study web technology and have been working as a web developer since 2012. 
With the web development experience, I have been striving to explore the possibility of merging technology and art by putting my designs and artwork into a smartwatch. Since 2019, my smartwatch face design has managed to bag 10 international design awards from the A'Design Award & Competition in Italy." 
Unwavering Passion
We were curious to learn about the presence of Artalrex in the Singapore market. So we asked, "Could you tell us about your company and its presence in Singapore?"  
Alex replied, "Artalex is more than just a brand; it's a profoundly personal journey of design and creativity. Artalex is a manifestation of my unwavering passion for art and design. What began as a mere name for my Instagram account evolved organically into a fully-fledged brand in 2017. During this transformative period, watch face design emerged as one of Artalex's primary focus areas. 
The watch face designs that bear the Artalex name are not confined to local admiration alone. While they have been eagerly downloaded and embraced by individuals within the vibrant landscape of Singapore, their appeal extends far beyond geographical borders."
He added, "Our brand's creations have captured the hearts of smartwatch enthusiasts worldwide, spanning the user base of both Android and Apple Watch devices. This global recognition and admiration speak to the universal allure of our designs, which seamlessly blend artistic flair with cutting-edge functionality. In essence, Artalex is a testament to the power of the artistic vision resonating with a global audience, bridging continents through the language of design and creativity." 
Current Year For The Brand
To learn how the year has been for Artalex, we asked, "How has the year been for your company in terms of overall performance and achievements?" 
"Starting in 2019, Artalex's smartwatch face designs have consistently earned recognition, securing 10 prestigious design awards. This remarkable achievement spans over five years, underlining the enduring excellence and innovation embodied in our brand's creations. 
Beyond the realm of accolades, our exceptional watch faces have garnered widespread acclaim in the global smartwatch community. Users from various corners of the world have eagerly downloaded and adopted these designs, testifying to their universal appeal and user-friendly nature. As Artalex continues to push the boundaries of smartwatch aesthetics and functionality, our legacy of award-winning design excellence only grows more impressive." Alex shared. 
Stand-Out Factors
It is a prerequisite to offer unique services to remain competitive and ensure sustainable growth and success. So, we asked, "In the current competitive market, what does your business offer that sets it apart from others?" 
Alex Pan Yong replied, "Artalex's commitment to design excellence is an unwavering journey of constant innovation and pushing the boundaries of aesthetics and functionality. The unwavering dedication to infusing innovative ideas into the user experience truly sets our designs apart. It's a philosophy that fuels creativity and fosters an environment where groundbreaking concepts are welcomed and actively encouraged to be incorporated into the design process." 
"This commitment to innovation doesn't merely stop at the conceptual stage; it permeates every facet of our design approach. It's reflected in the meticulous attention to detail, the relentless pursuit of user-centric solutions, and the tireless drive to craft smartwatch faces that look visually stunning and offer seamless and intuitive functionality.
With this ethos at the core of Artalex's design philosophy, every new creation represents an opportunity to redefine what a smartwatch can be. We are committed to pushing the envelope, exploring new horizons, and delivering a user experience that meets and often exceeds users' expectations worldwide. As a result, Artalex stands as a beacon of design innovation in the ever-evolving landscape of smartwatches." He added. 
Effective Teamwork
Having a solid team is paramount for the success of any business. So, we asked, "What measures do you believe employees and organizations can take to build effective teamwork and foster unity within the workplace?"
Alex replied, "Building effective teamwork and fostering unity within the workplace requires a combination of measures involving employees and organizations. To promote the same, we focus on certain factors. 
Firstly, effective communication is the foundation of any successful team. Employees should be encouraged to communicate openly and honestly with each other. This can be facilitated by promoting a culture of transparency and ensuring that channels for communication are readily available. Also, team members should clearly understand their shared objectives, helping them see the bigger picture and work together towards a common purpose." 
He continued, "Acknowledging and celebrating team and individual achievements also holds equal importance. Recognition fosters a sense of accomplishment and motivates employees to continue working together effectively. Establishing regular feedback mechanisms also works wonders. Organizations and employees should be adaptable and open to change in today's dynamic work environment. Being flexible allows teams to adjust to evolving challenges and opportunities, along with embracing diversity and inclusion." 
Tips For Beginners
Beginnings can seem confusing and challenging with proper guidance. To help with this issue, we asked, "Do you have any advice or tips for startups looking to follow a similar pathway to your company's success?" 
Alex Pan Yong replied, "Here are some tips for a startup looking to achieve success. Always start with profoundly understanding your passion and what drives you, and identify your unique values. Successful businesses often stem from a founder's interest and enthusiasm in a particular field or industry. 
Continuous learning is a crucial factor in this journey. The business landscape constantly evolves, and successful entrepreneurs seek new knowledge and skills. Apart from that, invest in building a solid and memorable brand identity, including a compelling company name, logo, and message that resonates with your target audience."
"Be open to innovation and adaptability. The ability to pivot and evolve your business model or product offerings in response to changing circumstances can be a significant asset. Besides, always be bold and make changes and improvements based on customer feedback and data. Continuously iterate your product or service to meet evolving customer demands.
Remember, your passion and determination are essential for overcoming obstacles and maintaining your drive during the startup journey." Alex concluded. 
Connect with Alex Pan Yong on LinkedIn. 
Find Artalex on the website.