What is A Certificate of Incorporation In Singapore- How To Get One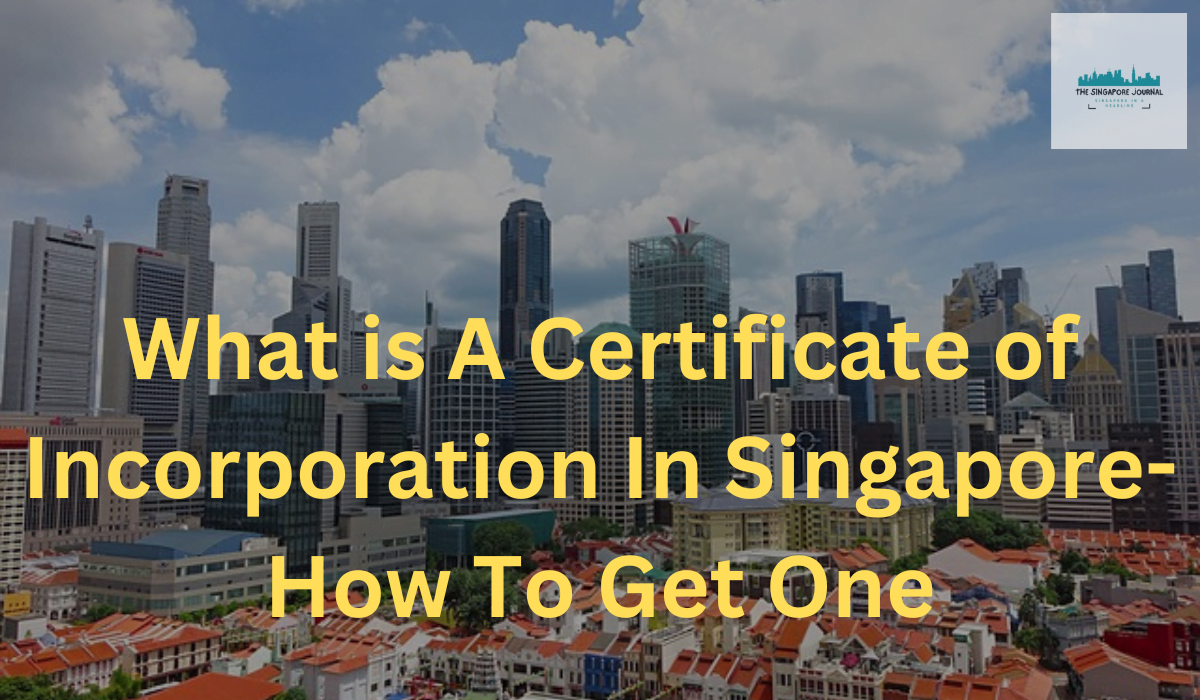 A certificate of incorporation is the most convincing evidence that a company has been registered correctly in Singapore. Though there are many versions of this certificate, others have asserted that only some Singaporean businesses can get a certificate of incorporation. Singapore has long been known as the most business-friendly country in the world, attracting entrepreneurs and investors from around the globe. If you want to incorporate a company in Singapore, one of the essential documents you will need is a Certificate of Incorporation. This blog post will navigate a Certificate of Incorporation, its significance, and the step-by-step process to obtain one. Understanding this vital document is crucial for anyone considering establishing a business presence in Singapore.
What is a Certificate of Incorporation?
A Certificate of Incorporation Singapore is a legal document issued by Singapore's Accounting and Corporate Regulatory Authority (ACRA). It is conclusive proof that a company has been duly incorporated and registered under the Singapore Companies Act. This certificate signifies forming a separate legal entity, distinct from its shareholders and directors and grants the company certain rights and obligations. Besides, it also provides a legal signature from the Registrar attesting to the fact that it has its own legal identity, which differs from its owners. In addition, a Certificate of Incorporation Singapore is not granted immediately upon establishing a business. Instead, a statement is sent through email as the first form of e- notification of incorporation. 
The Importance of a Certificate of Incorporation:
Obtaining a Certificate of Incorporation in Singapore is crucial for several reasons. 
Firstly, it provides legal recognition to your business, ensuring that it operates within the regulatory framework established by the government. 

The certificate also serves as evidence of your company's existence, which is necessary for various business activities like opening a bank account, entering into contracts, and engaging in legal proceedings.

A

Certificate of Incorporation

also offers limited liability protection to the company's shareholders. This means their assets are generally safeguarded if the company faces financial or legal difficulties.

It helps market your business to outside buyers. 

It shows that your company is legitimate by presenting appropriate documentation. 
Obtaining a Certificate of Incorporation:
Here is a step-by-step guide to assist you in obtaining a Certificate of Incorporation in Singapore:
1. Reserving Company's Name:
Before applying for a certificate of incorporation, you must ensure that your desired company name is available and complies with ACRA's guidelines. ACRA has an online system where you can search for name availability and reserve your preferred name for up to 120 days.
2. Appointment of Company Officers: 
You need to appoint at least one director who is a Singapore resident. Additionally, you must appoint a company secretary within six months of incorporation.
3. Share Capital and Shareholders: 
Determine the share capital structure and the number of shares to be issued. At least one shareholder is required, and they can be individuals or corporate entities.
4. Prepare the Required Documents: 
Prepare the necessary documents, including the company's constitution (formerly the Memorandum and Articles of Association), director and shareholder information, and the registered office address.
5. Engage a Registered Filing Agent (RFA): 
While it is possible to file the incorporation documents yourself, engaging a Registered Filing Agent (RFA) is advisable to ensure accuracy and compliance. RFAs are professional service firms approved by ACRA to provide company incorporation services.
6. Submit the Incorporation Application: 
Your RFA will assist you in preparing and submitting the incorporation application through ACRA's online portal. The application typically includes the company name, share capital details, shareholders' and directors' particulars, and the company's registered address.
7. Pay the Relevant Fees: 
You must pay the necessary fees for name reservation, company incorporation, and other optional services. The fee structure can differ depending on the company type and the level of services required.
8. Await ACRA Approval: 
ACRA will review your application, and if all requirements are met, the Certificate of Incorporation will be issued electronically. This process typically takes one to three days.
After Obtaining the Certificate of Incorporation:
Obtaining a Certificate of Incorporation is crucial when starting a business in Singapore. It provides legal recognition, protects shareholders' interests, and opens doors to various business opportunities. Following the steps, you can ensure a smooth and efficient incorporation process.
When you get the Certificate of Incorporation, you can perform other essential tasks, such as setting up your business bank account, obtaining necessary licenses and permits, and initiating your business operations. Remember to comply with ongoing statutory requirements, like holding annual general meetings, filing annual returns, and maintaining proper accounting records.
Additionally, Singapore offers various government schemes and incentives to support businesses, such as tax incentives, grants, and assistance programs. Familiarize yourself with these opportunities to maximize your business's potential growth. 
Conclusion:
A Certificate of Incorporation Singapore is a vital document that grants legal recognition and protection to your business. Following the necessary steps, you can obtain this certificate and establish your company as a separate legal entity. Remember to seek professional advice, comply with statutory requirements, and take advantage of Singapore's business-friendly environment. Embarking on a business venture in Singapore can be exciting and rewarding. With a well-prepared business plan, a clear understanding of the incorporation process, and the support of reliable professionals, you can position your company for success in one of Asia's leading business hubs.
FAQs:
1. Why is a Certificate of Incorporation needed?
A- The Certificate of Incorporation is typically needed when the company is entering into any trading agreements but was contracts or involved in a transaction with overseas government or agencies of the government. Moreover, the transacting parties may need the certificate as proof of the existence and nature of the entity. 
2. How long does it take to obtain a Certificate of Incorporation?
A- After successful payment to ACRA, the Certificate of Incorporation will be available for download within 15 minutes.
3. Can I buy a hard copy of the Certificate of Incorporation?
A- No. As of May 31, 2018, ACRA no longer issues paper copies of the Certificate of Incorporation. Now, Certificates of Incorporation are only available in an electronic format. You may read on other websites that hard copies are offered as a service, but this is no longer the case. 
Also Read: