Family-Friendly Activities to perform in singapore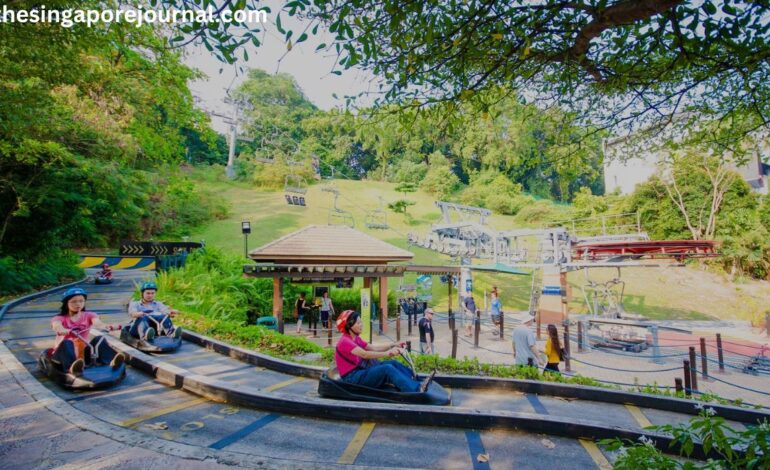 Singapore is the ideal playground for families to get outside and enjoy some time in the sun because of the year-round sunshine. The city is filled with various family-friendly activities and things to do with kids, such as visiting farms, indoor skydiving, and immersing in a virtual world, whether you have an energetic toddler, a curious youngster, or a disgruntled adolescent. It's time to let your kids run wild at these family-friendly activities in Singapore and burn off all that excess energy.
Changi Jurassic Mile offers dinosaur walks.
This can be tagged a one of the best kid-friendly places in Singapore. With the family, ride your bicycle down Changi Airport Connector and look for the area's largest permanent outdoor exhibit of life-size dinosaurs. More than 20 distinct ancient, enormous monsters, including the tyrannosaurus rex, velociraptors, and parasaurolophus, the largest of which stands at around five meters, can be seen at Changi Jurassic Mile. As you go around the grounds, watch the young dinos emerging from their enormous eggs and attempt to identify all nine species along the kilometer-long trail for running and cycling.
Race at Skyline Luge Sentosa.
This is one of the famous kid-friendly places in Singapore, offering activities like no other outdoor experience; this cart ride from the top of Sentosa is powered by gravity. You'll want to take the whole family for an unforgettable weekend out because it's appropriate for children and adults. Four courses are available: Kupu Kupu, Expedition, Dragon, and Jungle. Others have simple, moderate slopes, while others have surprise curves and twists. If your child is younger than six, riding in tandem with you will undoubtedly be a memorable experience for them. You may coast down any track and love the cold sea wind on your hair.
Garden playground in Jurong Lake
The 90-hectare Jurong Lake Gardens has the most entertaining things to do in Singapore. Singapore's newest national garden is regarded as the most incredible natural paradise in the country's interior. Beyond the plants and animals, the grounds were deliberately planted and created so the community and families could meet there to play, learn, and connect. The many obstacle courses, the subterranean trampolines, the zip line, and climbing up a tower to slide down in a tube are all great ways for kids to burn off some energy.
Visit the ArtScience Museum to enter a digital world.
The magnificent lotus-shaped skyscraper is a famous landmark in Singapore's skyline and a hub for the fusion of art, science, culture, and technology, as it is one of the interesting kid-friendly places in Singapore. Future World – Where Art Meets Science, a museum's ongoing display, invites you to take your youngsters on an artistic journey. A visit here will ignite your children's creativity with teamLab's digital art installations, where they can witness their 2D crayon creations turn into animations, build thrones out of color-changing blocks, and descend an interactive slide.
Hike about a little in Hindhede Nature Park.
For a leisurely walk with the family, visit Hindhede Nature Park, close to Bukit Timah Nature Reserve, which offers clear walkways and simple trails ideal for families, kids, and novice hikers. It's peaceful and picturesque, and it's also a great place to view wildlife because it's home to species like the banded woodpecker, clouded monitor lizard, and plantain squirrel, so keep your eyes out when out for a stroll. Of course, the scenic Hindhede Quarry at the park's end is the major attraction.
Play on the slides in Admiralty Park.
There are 26 different slides to choose from in the three major play areas: Junior Play, Adventure Play, and Family Terracing Play. Take a wild ride down one of them. The Curved Roller Slide is a 34-meter-long outdoor slide lined with black tubes that resemble conveyor belts for simple sliding. It is open to both young and young-at-heart people. A wheelchair swing and merry-go-round are included in the inclusive playground, which also has slides, to encourage play among kids with and without special needs.
 Universal Studios Singapore
This one should be obvious, providing some fantastic family-friendly activities in Singapore. Universal Studios Singapore is best to escape the summertime monotony. Teenagers can get their pulse rates racing on exhilarating rides like the Battlestar Galactica: Human vs. Cyclone thanks to the abundance of rides and attractions spread over the park's seven themed zones. Take the chance to meet characters like the Madagascar team and the Minions at meet-and-greet events. Take advantage of the Tropical Thrills event, where you may meet the king of fun at Aloha and recreation in the tropics. Speak with King Kahula while seeing stilt walkers and hula dancers in addition to your favorite characters from Sesame Street and the Minions dressed in their best tropical island attire.
Dive into an Amazonia "snowball" pit.
Amazonia returns with an arctic motif that is oh-so-cool (see what we did there?) after receiving a significant revamp in 2019. The tallest indoor wave slide in the city, a netted trampoline, and a snowball pit (without actual snow) are all available to children. Additionally, a sizable 3,000-square-foot play gym with kid-friendly tasks is open. The soft-play area, set apart from the bigger children's room and has a little slide, ball pit, interactive play panels, and swings, is where babies may have fun.
Go on a safari in the Singapore Zoo.
More than 2,500 animals from over 300 species live in the zoo, which is situated on 26 hectares of beautiful nature reserve area. One of the world's first "open concept" zoos, it houses animals in individually designed enclosures and zones, in contrast to conventional caged zoos. Here, you may say hello to the amiable Asian elephants, have breakfast with the orangutans (now suspended), and get a close-up look at the rare white tiger.
Visit the nearby river-themed animal park, River Safari, to see the manatees, crocodiles, flamingos, and pandas while you're there. On a boat tour fittingly dubbed Amazon River Quest, encounter over 30 jungle species up close.
Enjoy a wonderful family dinner at SandBank.
Sandbank places a lot of emphasis on family entertainment, and it shows in the informal restaurant's 15-meter plunge pool, which spans the front of the establishment and is divided into a third for kids and a third for adults. Thanks to the beverages menu's extensive selection of draught beers, wines, and cocktails, parents may relax and enjoy their preferred beverage while the kids play. Sandbank has a kids' menu, kid-friendly cutlery, and baby high chairs if the kids become hungry. For added convenience, they even provide a baby changing station.
You will find some incredible family-friendly activities in Singapore. With so many things to do with kids here, Singapore can be tagged as the ideal family destination.
Also Read: