What Is Included In Office Cleaning Services?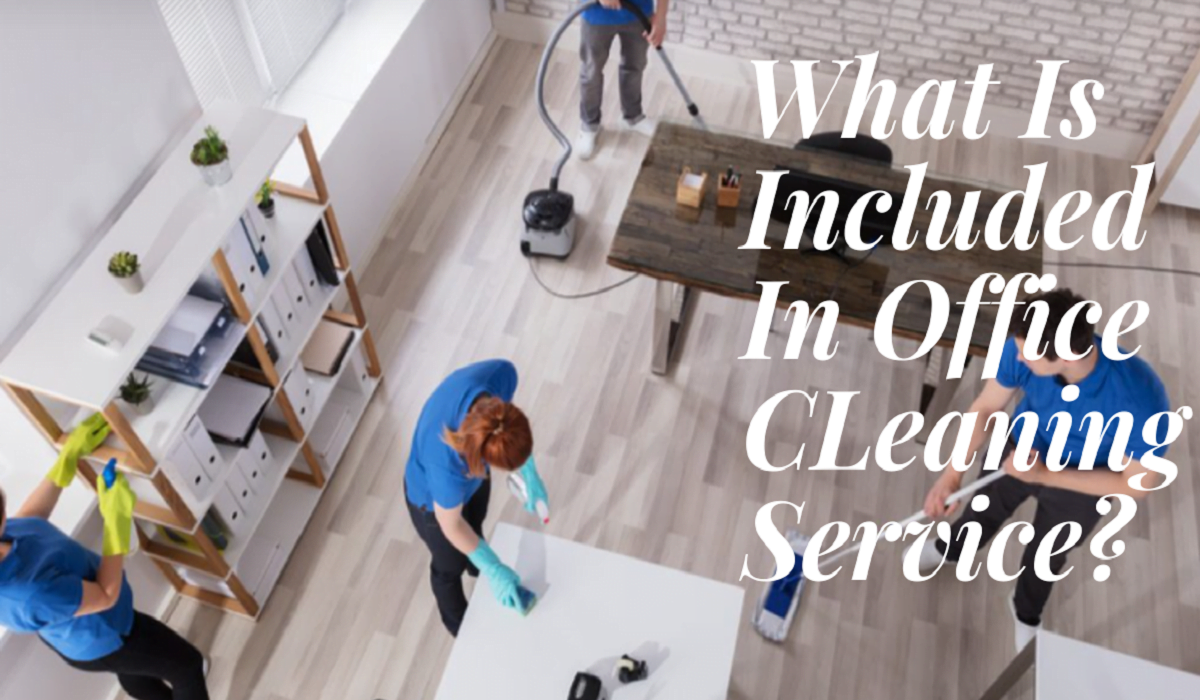 Maintaining a clean and hygienic office environment is essential for the productivity, health, and well-being of employees. However, managing the cleanliness of an office space can be a time-consuming and challenging task. This is where professional office cleaning services in Singapore come into play.
Businesses all around Singapore recognize the value of cleanliness and frequently choose to use expert office cleaning services to keep their facilities immaculate. In this article, we will examine the typical components of office cleaning services and the reasons that businesses need them.
General Cleaning
Office cleaning services in Singapore encompass a wide range of tasks, starting with general cleaning. This includes dusting and wiping surfaces, such as desks, tables, shelves, and cabinets, to eliminate dirt, dust, and fingerprints.
To maintain a tidy and clean look, floors are regularly vacuumed, swept, and mopped. As part of normal cleaning, trash cans should be emptied, liners should be changed, and garbage should be disposed of properly. For workers and visitors, general cleaning contributes to a neat and pleasant environment.
Washroom Sanitization
For any business setting, maintaining clean, sanitary restrooms is crucial. Office cleaning services include a full sanitization of restrooms, including the cleaning of countertops, mirrors, and fixtures, disinfection of sinks, toilets, and urinals, refilling of paper towels, toilet paper, and soap dispensers, and emptying of trash cans. This meticulous attention to detail ensures that washrooms remain fresh, germ-free, and pleasant for everyone to use.
Floor Care
An essential component of office cleaning services is floor maintenance, particularly in high-traffic areas that are vulnerable to grime and scratch marks. Depending on the kind of flooring, professional cleaners use a variety of techniques.
Regular vacuuming is done to remove dust and debris from carpeted areas, and thorough cleaning is done sometimes to get rid of dirt and stains that have been there for a long. It is necessary to sweep, clean, and polish hardwood or tile floors to keep them shiny and prevent scratches. Regular floor cleaning extends the life of your flooring and improves the aesthetic appeal of your office.
Window and Glass Cleaning
Windows and glass surfaces can accumulate smudges, fingerprints, and dirt over time, hindering natural light and compromising the overall appearance of the office. This includes the cleaning of windows, glass partitions, and doors. Professional cleaner company of Singapore utilize appropriate cleaning agents and techniques to remove fingerprints, smudges, and dirt. It ensures streak-free, crystal-clear windows, allowing ample sunlight to enter the workspace and enhancing the overall ambience.
Dusting and Cleaning of Electronic Equipment
If not cleaned appropriately, electronic equipment may become an ideal breeding ground for bacteria and viruses. These objects are dusted and cleaned to remove dirt and dust as part of office cleaning services. To avoid damage and properly remove dirt and debris, fragile equipment is given extra care. This procedure aids in the durability of electrical gadgets and ensures a clean working environment.
Pantry and Break Room Cleaning
The break room and pantry are open areas where staff members unwind, dine, and socialize. These places are prone to accumulating dirt, spills, and food waste very rapidly. Office cleaning services will make sure that eating rooms, sinks, and pantry countertops are all well-cleaned. They'll disinfect work areas, clean freezers, and keep the area tidy and organized so that staff members can relax during breaks.
Dusting and Air Vent Cleaning
In addition to making your workplace seem messy, dust accumulation can also cause allergies and breathing problems. Dusting all surfaces, including those on furniture, shelves, blinds, and air vents, is something that professional office cleaners take very seriously. You may enhance indoor air quality and encourage a healthy work environment for your workers by keeping these places clean.
Specialized Cleaning Services
In addition to routine cleaning tasks, A cleaner company in Singapore offer specialized cleaning services to cater to specific needs. Deep cleaning, carpet shampooing, upholstery washing, polishing office equipment, and high-pressure cleaning for outside surfaces are a few of these possibilities.
The individual needs of each office may be catered for by specialised services, which offer thorough cleaning solutions beyond routine maintenance. It's crucial to convey your wants to the cleaning service so that they can meet your specific requirements.
Waste Management
To maintain a tidy and healthy workplace, proper waste management is essential. Trash cans are regularly emptied as part of office cleaning services, and new bags are always placed inside. Recycling and non-recyclable garbage must be separated by cleaners following organizational policies and local laws.
Benefits of Professional Office Cleaning Services
Time and Cost Savings:
Businesses may concentrate on their core competencies by contracting out their cleaning needs while leaving the work to professionals by outsourcing cleaning services. Compared to employing and supervising internal cleaning employees, it saves both time and money.
Improved Workplace Health and Hygiene
An atmosphere that is healthier at work and with fewer sick days results from complete disinfection and sanitization that stops the transmission of germs and bacteria.
Enhanced Employee Productivity
An inviting environment, which is fostered by a tidy and organized workplace, encourages employee engagement, spirit, and efficiency.
Professional Image
A spotless workplace enhances the organization's professional image by making a good first impression on customers, guests, and possible business partners.
Extending the Lifespan of Assets
Maintaining the quality of office furnishings, carpets, and equipment through routine cleaning and maintenance reduces the need for replacements and repairs.
Conclusion
Maintaining a clean and organized office space is crucial for the success of any business. An office cleaner company in Singapore encompass a wide range of tasks that ensure a clean, organized, and hygienic working environment.
Professional cleaners are essential to preserving the cleanliness of the workplace, increasing productivity, and portraying a professional image. They provide regular cleaning as well as specialized services.
Businesses may concentrate on their core activities while putting the upkeep of their facilities in the hands of professionals by outsourcing cleaning tasks. Any business looking to create the perfect working environment for both its staff and visitors will find that paying for office cleaning services is an intelligent decision.
Always keep in mind how important it is to choose a reliable office cleaning service in Singapore. Spend some time looking around and picking a business that has a solid reputation, good customer feedback, and a dedication to the highest cleaning standards. You can concentrate on your main business while taking advantage of a clean and professional workspace when you have the proper office cleaning service on your side.