Tips To Clean Different Types of Upholstery in Singapore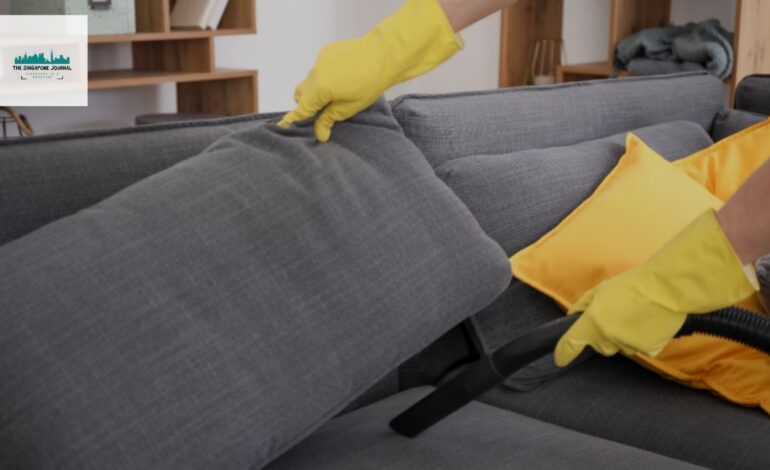 You deserve the elegance and relaxation you enjoy at home after a trying day. Wondering how? Furniture upholstery is the solution. The need to unwind on a soft couch with a cup of tea and a book arises when you have fabulous upholstery furniture. But it needs frequent attention and careful maintenance. However, while fabric and leather upholstery cleaning, there are a few things you should watch out for. Your furnishings will be harmed if this doesn't happen. You are aware that there are numerous materials available. Therefore, it's crucial to take appropriate cleaning precautions. Be at ease, though! This detailed post shows you some helpful advice on upholstery cleaning tips in Singapore.
The Different Upholstery Material Types
The skill of adding coverings to furniture is known as upholstery. It consists of leather, springs, cushioning, and fabrics. Numerous upholstery materials are offered in the market. The four primary categories of upholstery are listed below.
Upholstery Cleaning Tips in Singapore Based On The Different Types
Frames
Out of many upholstery items, wood, metal, or aluminum frames are most commonly used in homes and offices. They might have seemed like inconsequential little things to you, though. You need to be aware that these seemingly insignificant elements can significantly impact. They improve the furniture's aesthetic appeal.
Depending on the various types of frames, you need to take care of their cleaning requirements.
Wood – Use a bare wood cleaner if your furniture is made of wood. The dust or filth can be removed or cleaned with any microfiber cloth.
Metal and aluminum – The sofa cleaning procedure with metal and aluminum requires the same cleaning procedures. It may be cleaned with only water and a rag. However, a gentle brush is necessary to remove the chemicals when trapped.
Fabrics
When we consider the fabric and leather upholstery cleaning, the fabrics in the furniture require specific maintenance. Before beginning the sofa cleaning, there are a few things to think about!
Any type of fabric, including microfiber, rayon, acetate, etc., must first be cleaned by vacuuming the entire piece of furniture.
Secondly, after vacuuming the furniture, liberally mist it with upholstery cleaning. To ensure you lightly spritz and do not first spray directly on the fabric, start by testing in an inconspicuous location.
Use a Microfiber Cloth to Clean 
After that, using a dry microfiber cloth, scrub the entire upholstery in a circular motion to remove all the cleaning agents. You should avoid using colored or printed material on furniture to prevent discoloration.
Completely Remove the Stain
If the fabric of your sofa has a stain, gently wipe it across the surface to erase the discoloration. Alcohol spray can be used to remove the damaged material from the couch.
Steer clear of harmful chemicals
Steer clear of upholstery cleaners that include chemicals like Perc (perchloroethylene). It is terrible for our health to use this chlorinated solvent. Use non-toxic solvents that don't contain chlorinated solvents.
Leather
The Upholstery cleaning tips in Singapore for leather furniture are simple to clean. You must adhere to these easy cleaning instructions!
To remove dust particles from every crevice and corner, start with vacuuming.
Use a dry cloth and a tiny amount of leather cleanser to clean the surface gently.
If leather cleaning is unavailable, you can use old white vinegar as a replacement. Simply use a dry towel or a sprinkle of vinegar to wipe down your furniture to get the desired effects.
Refrain from using cleaners frequently.
As we all know, moisture will encourage the growth of mold, so stay away from utilizing leather solvents and cleaners that have been diluted. Alternatively, you may vacuum every day.
Spray the upholstery cleaner on any stains on your leather furniture and let it sit for a while. After ten to fifteen minutes, gently rub the blot with a moist cloth and allow it to dry.
Suede
Suede is one of the more easily stained textiles. Understanding the care requirements is essential. Suede brushes help keep fabrics' textures intact. A stain repellant is proper to prolong the life of materials. It also helps to simplify the process of suede sofa cleaning. If the fabric is stained, use a suede brush and baking soda to remove the stain.
Tips for washing upholstery in Singapore's climate
Due to Singapore's hot and humid weather, dust mites, mold, and mildew can grow on upholstered furniture. To avoid these issues, it's critical to clean your upholstered furniture periodically. Upholstery cleaning tips in Singapore climate are as follows:
 To get rid of dust mites, mold spores, and other allergens, vacuum your upholstered furniture at least once every week. Use your vacuum cleaner's upholstery attachment to get into all the crevices.
Clean up spills right away.
Blot any spills on your upholstered furniture as soon as possible using a fresh cloth. Rub the stain gently; else, it may spread. After blotting the color, you can use a gentle upholstery cleaner to remove leftover particles.
Use a damp, microfibre cloth for cleaning. 
Instead of using a wet cloth to clean your upholstered furniture, use a damp one. This will aid in preventing moisture buildup in the fabric, which can encourage mold formation and mildew.
Dry your furnishings outside.
Allow your upholstered furniture to air dry in the sun after cleaning. This will kill any mold or dust mite spores that may still be present.
Cleaning Suggestions For Upholstered Furniture.
Invest in a dehumidifier.
A dehumidifier can help lower the humidity in your house, which can help limit the formation of mold and mildew.
Your furniture needs frequent airing.
Open your windows and doors to allow fresh air to circulate within your house. Any moisture that has built up in your furniture will be removed by doing this.
Put some stain-repellent on.
 Your upholstered furniture can be protected from spills and stains with the help of a stain repellent.
Upholstered furniture needs weekly cleaning. Alternatively, it must be cleaned thoroughly once a month. Consequently, cleaning the furniture by yourself is typically pretty simple. However, for thorough sofa cleaning, you can connect to the experts when a stain becomes unmanageable and permanent. Otherwise, even these upholstery cleaning tips in Singapore will help you prolong the life of upholstered furniture.
Also Read: