Transform Your Interiors – Day Curtain Styling Tips for Every Room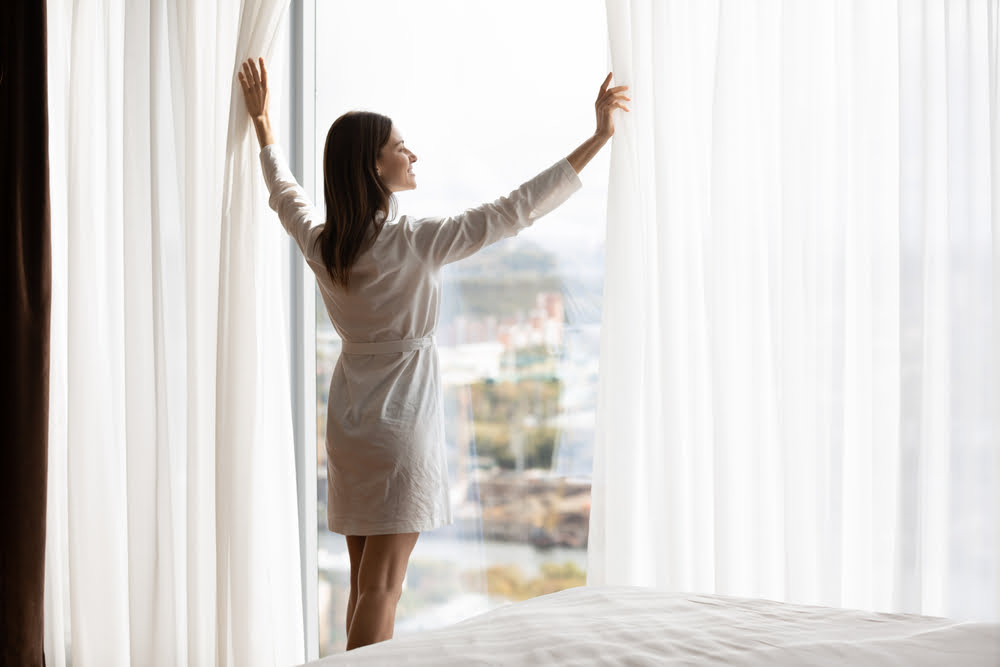 Transform Your Interiors: Curtains can really make your living space look quite different. But for that a careful and smart choice of curtain is important. Adding to this is the style colour pattern. Do you know that you can make your own style by arranging curtains.
Right from bold style to modern and chic style everything is possible. If you are also looking for transforming your interior then you have certainly landed in the right place. Here we shall see how you can style your interior using day curtain Singapore. Plus we shall discuss some tips as to how can you choose what is best for you.
Day curtains – What are these
First of all, there is a lot of reason behind the recent hype of the day curtain. If you are someone who is wondering what are these then let us find it out together. Very typically these day curtains are super light. They have an element of transparency but don't hamper your privacy. If you are someone who loves natural lighting in the room but is afraid of bugs or heat then day curtains are for you. It enhances the beauty of the space.
Why should you choose day curtains instead of blackout curtains
Typically blackout curtains are made of very thick materials. As you can say by the name it literally blacks out the entire space from natural. In contrast to this day, curtains still make a lot of space for the sunlight to entire your living space. You feel a lot warmer if you have day curtains as compared to blackout curtains. As these blackout curtains entirely shade the natural light installing them few things have to be considered.
Natural light is important. It helps to keep the place disease free and warm. Additionally natural light makes your space aesthetically pleasing. If you are convinced as to why you should go for day curtains then here are some necessary tips as to how you can style them. This will for sure make your space look ten times more pleasing.
The most important choice – the material and its shade
In most cases, it is recommended even by professionals to go for light and warm colours. Lighter shades help to create the most ideal kind of curtain effect for sheer kinds. You can definitely experiment with the colours. If needed get professional guidance. As Materials like chiffon or silk are popular choices.
Day curtain layering and the length considerations
You might have this question as to why we should go for curtain layering. Is that necessary at all. The answer is it is definitely not necessary. But remember that as mentioned earlier these day curtains are quite transparent. Therefore the main reason for layering is to keep your privacy.
By layering you can get the benefits of a beautiful semi-transparent or transparent Day curtain in Singapore. And privacy is too protected. In short, you get both benefits. Now what must be the length of the curtain? For this few things has to be considered. First is analysing your room properly. See if it is spacious or has furniture. Then style it according to it. You can create a height illusion by using long curtains.
Do you know how can create different styles using patterns and textures
There are a lot of different styles and patterns available. Patterns can be soft and delicate or it can be of modern style. There are a lot of contemporary styles available. Geometric patterns are too a new kind of style that has been recently a demanding choice.
You can create a variety of different styles using these patterns. If you are a minimalist then soft patterns and soft textures are the best for you. On the other hand for bold and maximalist patterns geometric patterns or textured patterns are a great choice.
Go creative with tie-backs
These tie-backs are decorative items. These are generally used to hold the curtains all together. It creates a very warm effect in your living space. It helps to keep the curtains together in their place while allowing natural light. The aesthetics are improved because of this. It hence appears neat and elegant. Go for contrasting patterns and colours while looking for tie-backs.
Play with the complementary accessories
Create a theme for the living space by using several accessories that complement the day curtains. You can even try out rugs or floor mats or pillows that go with the pattern and style of the curtains. All of these will certainly change the way it looked before. Be a little pickier while choosing the hardware or rods for hanging your curtains.
Do not just go with any random one. Rather go for more stylish and decorative options. You can even put some indoor plants styling with the day curtains. It not only helps to keep the space more eco-friendly but beautiful. Plus an additional advantage is it keeps the air quality clean.
How to maintain the day curtains
First of all, while buying the day curtains look for the ones that are easier to maintain. Ask the seller about the washing instructions. Do not forget that these materials are very delicate. Look for the ones that are stain-resistance. One of the easiest ways to maintain them is using vacuum cleaners for cleaning. This will reduce the time of washing it. Better durability of the material is therefore achieved.
Conclusion
Lastly, always remember that how you style is your personal choice. It reflects the way you want the area to look. Day curtain in Singapore is an excellent option always. Remember the tips that are discussed above. Also you can buy for your house blackout blinds in Singapore. Hope this post was helpful.
Read More: